020 3095 0005
Outlook
There are many versions of Outlook with subtly different features, but for now here are the general things you need to do:
In Tools->Accounts->Email Accounts (May vary from version to version)
Select 'Add Account'.
Name the account, and set your 'real name' to whatever you like, it is purely cosmetic, as far as email service is concerned.
Specify the username and password as provided when your account was set up. If you do not have the details, please contact support.
Set your receiving server to be an IMAP server, with a host name of mailhost.orenet.co.uk.
Set your sending server to be 'smtpmail.orenet.co.uk'
Ensure that the option for 'my (sending/outbound) server requires authentication' is checked, and if applicable the 'use the same details as receiving' box is selected, but do not select the option for 'use secure password authentication'.
PINE
Sylpheed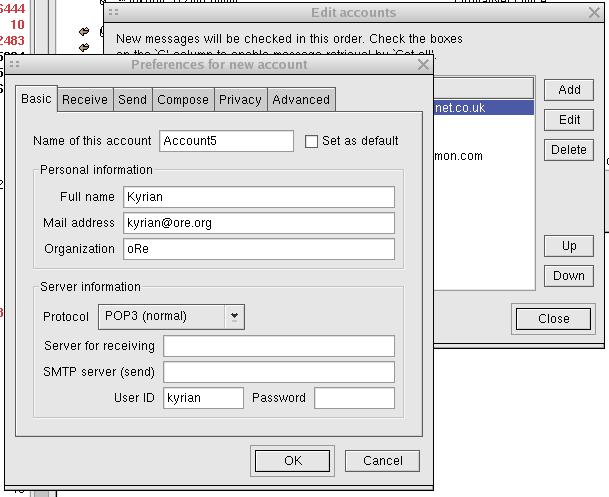 To configure Sylpheed for an oRe Net email account, all you need to do is Select "Create New Account" from the Sylpheed "Configuration" menu (at which point you will be presented with a pair of new windows, as above), and input the following:
Your email address in the "Mail Address" box.
Select "IMAP" in the "Protocol" drop-down menu.
mailhost.<yourdomainname> in the "Server for receiving" box.
smtpmail.<yourdomainname> in the "SMTP server (send)" box.
Additionally, you may also enter (for cosmetic purposes):
Your full name in the "Full name" box.
Your organisation/company in the "Organization" box.
Your username in the "User ID" box.
Your password in the "Password" box, although this is not advised, as it is a security risk when done on a shared computer.
If you have already configured some mail collection accounts, you may then also have to select "Change current account" from the "Configuration" menu, and then the name of the account you just created from the sub-menu to access your oRe Net mail account.